We provide every Funeral Director with a dashboard to help you navigate around funeral-notices.co.uk. Understanding your dashboard helps you maximise on the free benefits available for you on funeral-notices.co.uk as well as providing you with some really helpful information on the online performance of your notices, your free business listings page and how much has been raised for charities on the notices published on your account on funeral-notices.co.uk.
When you log into your funeral-notices.co.uk account, do you ever take a moment to look at the free dashboard we provide for you?
In the first of a series of videos, we explain the benefits and functions available for you on your own dashboard; helping ensure you are getting the most from your funeral-notices.co.uk account. Watch it
here.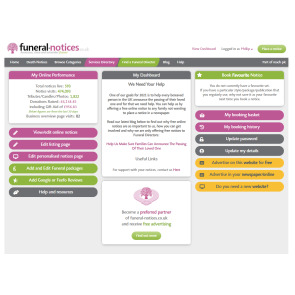 Ideally, every booking journey on funeral-notices.co.uk should start and end on your dashboard.

The video above explains a little about what each of the sections on your dashboard do. The area we would like to focus on in particular today is the 'My Online Performance' panel on the top left hand side of your dashboard.
First up, using real figures taken from a number of Funeral Directors' dashboards, let's take a look at what your online performance tells you.

The top number 'Total notices live' lets you know how many notices you have currently on funeral-notices.co.uk.

In this example the FD has 593 notices live. Those notices have been seen 474,083 times and 1,822 people have interacted - that is added tributes, photos or candles to notices - with notices booked on the account.

These top three numbers are a great resource for you to help reassure your families that notices on funeral-notices.co.uk are seen by the people that matter to them. Remember, every notice we publish for you appears alongside your logo and links to your free business listings (overview) page, giving your business the chance to be seen by the thousands of people viewing your notices.
Your notices are all viewable via your 'Notices History Page', listed on an infinite scroll from newest to oldest.
Take a look at the Notice History page of
George Simnett Family Funeral Directors
in Derby.
George Simnett Funeral Directors
are a Preferred Partner of funeral-notices.co.uk, which means their funeral notices may be viewed from their own website and is why they are able to display an advert for their business on their notice history page too, as well as on their free listings page and beneath every notice we publish to their account.
Your online performance is also a brilliant way to keep track of how much has been donated to charities through your notices on funeral-notices.co.uk.

When we have demonstrated this area of the dashboard to Funeral Directors they have been really pleasantly surprised by these numbers.

In this example, a massive £17,031 has been raised, plus Gift Aid totalling £2,758. Adding a donation profile to a notice is so easy to do and these results speak for themselves; absolutely amazing.
Your online performance also shows you just how many people have seen your free business listings page, for the last 30 days.
In this final example, the Funeral Director's free 'Business Listings (Overview) page' has been visited 711 times. That's a lot of people presented with information on your business. Like the Notices History page, the Listings page offers a number of opportunities to link back to your own website. For Preferred Partners we offer even more backlinks and brand exposure.

This particular online performance belongs to one of our longest standing Preferred Partners who also benefit from a welcome increase in visitors to their own website, with an average of 50 clicks to the 'Funeral Notices' button on their website per week, meaning at least 50 people a week see the other services offered on their website, for free.
Our coming series of videos will explain in further detail how to navigate around other areas of your dashboard. In the meantime, please take a moment to explore your online performance the next time you log into your funeral-notices.co.uk account. We think you will be pleasantly surprised by your own numbers.

If you would like to speak with us about your dashboard on funeral-notices, becoming a Preferred Partner, or for help and support with your account, please contact us using the form below and an Account Manager will be in touch:
Thank you for reading.

Don't forget to

Follow

funeral-notices.co.uk

on social media to see when new articles are published:

Facebook Twitter Instagram LinkedIn