"Your brand is what other people say about you when you're not in the room." - Jeff Bezos, CEO Amazon.

Okay, so you're Funeral Directors and not in the business of sales and marketing but branding your business still matters, because what people think of your business matters.
Funeral Directors trade on their good name and standing within the community. Reputation, honesty, integrity and trust are core values proudly mentioned on many a Funeral Director's website and rightly so. You've worked hard, often for generations, to earn that position of trust within your local communities. Why then might it matter that people are aware of your brand and logo too?
Think of a favourite brand of yours and think of the image you associate with it. More often than not their logo will spring to mind but more than that, you usually conjure up some kind of feeling towards that business. For Funeral Directors, a brand should instantly conjure up feelings of trust and honesty. From the signage on your offices to the advertising you may do; your logo is speaking about your business and the more it is seen, the better.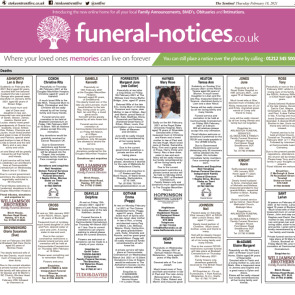 Many Funeral Directors are now choosing to include a logo in their notices that appear in one of our local newspapers.

Adding a logo to your notice gives our print audience instant recognition. Looking at this recent page from The Sentinel in Stoke, the notices including logos really jump out from the page. People in the area recognise and trust the brands associated with their local Funeral Directors. It was always said that people turn to the BMD pages of their local newspaper first to see who has passed away, before they read the news. I have heard the same said by Funeral Directors who like to see how busy others in their local area are. Our audience sees that too; if they're busy they must be good, right?




Every notice published on funeral-notices.co.uk is published alongside your logo, for FREE.

For our audience viewing notices via their local news websites that means they will see your logo before they click into a notice. Instant recognition and an increased audience for your brand; reinforcing the message that you are open, busy and therefore trusted by many families in your local community.








Your brand is more than your logo. Your brand consists of everything about your business that your clients experience. Many Funeral Directors display their reviews and testimonials on their websites; these are excellent tools to reinforce your brand. A good review is priceless.
Did you know you can add your Google or Feefo reviews to your free business listing page on funeral-notices.co.uk?
Google reviews are particularly special as they are unprompted and for Funeral Directors are often heartfelt and incredibly moving. What says more about your business than someone taking time to find you on Google and go out of their way to publicly praise and thank you?
In addition to your logo, funeral-notices gives a FREE listings page to every Funeral Director branch publishing notices online. Take a look at this notice placed by A J Lloyd
here.
To the bottom left of the notice, of every notice we publish on behalf of Funeral Directors, our audience is invited to visit the listings page of the Funeral Director.
Your FREE listings page provides an opportunity to speak to our audience about your business with a 'Business Overview' section, displays your recent notices, Google or Feefo reviews and address and opening hours. The page may be edited to match the colours of your brand and comes with four buttons that may be linked back to your own website or Facebook. Take a look at AJ Lloyd's listings page
here.
The advert featuring on the top right hand side of their page is available to every Funeral Director. Read more on how to claim your free advert
here
or fill in the contact form at the bottom of this article.
The more notices you publish, the more likely it is your business will be seen by more people. In addition, getting 100% of your notices published online makes your business look like it is thriving too - success breeds success and avoids the question 'why are you so quiet?'.
Hopefully you're aware we are offering
free
online notices for the duration of the pandemic? You can read more on those
here,
but how do our online notices help your business?
An online notice on funeral-notices is a great online marketing tool, with every online funeral notice linked to your brand and listing information on funeral-notices.co.uk. We have many prompts available to encourage friends and family to share a notice both before and after a notice is published online. When you come to book your notices with us, we encourage you to add in email address(es) for family and friends which allows us to email them as soon as their notice is published encouraging them to share it on social media and messaging sites.
Once the notice is live, we have a prominent section on the notice dedicated to encouraging people to share the notice, as well as a pop up prompt encouraging the same.
Every single share results in more people seeing the notice, which is fantastic for the family and great for your business with additional exposure to your brand.
To find out what people are saying about your business you can Google your business or branch name. Yelp, Trustpilot and funeral industry specific review sites are also useful tools.
It is also useful to track mentions and conversations about your business on social media and online too. Our digital marketing colleagues at Reach Solutions can help you with this, by providing you with a free online marketing health check
here
or you can contact them
here
.
If you would like to speak with us about your brand on funeral-notices, claiming your free advertising or for help and support with your account, please contact us using the form below and an Account Manager will be in touch:
Further reading on social media may be found here:
How Can Social Media Help Me as a Funeral Director?