The Competition & Markets Authority (CMA) released its Final Report: 'Funerals Market Investigation' on 18th December 2020. One of their 'suggested remedies' is: 'Prices to be displayed clearly and prominently in house or on websites (or another appropriate online channel if they do not have a website).'

They go on to say: 'We intend to consult on the precise meaning of 'clearly' and 'prominently' during the Order-making process. For display on websites, we could require, for example, that prices must be no more than one click from the home page (or the relevant branch page where a funeral director's prices vary by branch).'

It is estimated that their consultation process could last until late March/early April - September 2021 at the latest after which time they will be looking for compliance with their suggestions.

As ever, funeral-notices.co.uk is here to support you in any and every way we can and today we'd like to show you how you can create a 'Standardised Price List' on our website, for free, as well as displaying all of your funeral prices/packages.
It's really easy to add prices onto your free listing on funeral-notices.co.uk; in fact your page is already set up and waiting for you to add your prices in just two simple steps - no need to pay for a change to your website or indeed set up a website if you are not yet online.
Step 1 - Log Into Your Funeral Notices Account and View Dashboard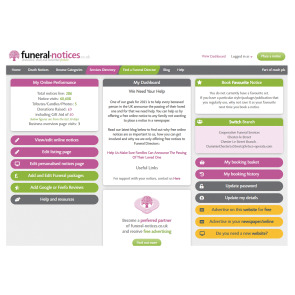 Every time you log into funeral-notices.co.uk it is best practice to begin your journey from your dashboard page. If you log in and you cannot see the
dashboard, click 'View Dashboard' in the top right hand corner of your screen.

On the left hand side of your dashboard, click the green button '£ Add and Edit Funeral Packages'
Step 2 - Add Your Prices/Packages
Next, simply click 'Add New Package' and begin building your package.
To comply with the CMA suggested remedy, it would be prudent to list each individual item by name with a price next to it just as the CMA have in Appendix X:
Standardised Price List (for illustrative
purposes)

The system will automatically add up every item you list.
Or, if you wish, you may put a zero next to each individual item and just enter a total package cost at the end.
As soon as you have built your first package, click 'Confirm Plan' at the bottom of the page.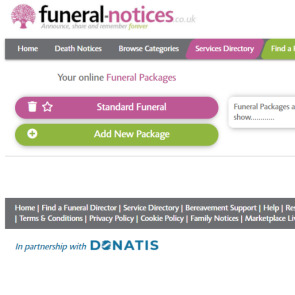 And it's that simple, you have created your first Funeral Package on funeral-notices.co.uk

You can add a number of packages to your page: simply repeat the process as often as you like.

If you would like to make one of your funeral packages your favourite, the one that displays above the others, simply click the star next to it.
Adding your prices to your listings page on funeral-notices.co.uk really helps you stand out from the crowd in our 'Find a Funeral Director' search directory.
Your 'Favourite' package displays next to your Google or Feefo review score.
On your listings page, it displays at the top right hand side of the page in a prominent position.
Take a look at the free listings page of Richard and Shannon Jenkins Funeral Directors
here.
Richard Jenkins has chosen to display a number of their funeral packages. Beneath the packages, you'll notice our audience are encouraged to request a callback from Richard and Shannon Jenkins providing them with an extra opportunity to reach new clients,
for free - we will never charge commission on any leads generated from our site!
Whether you have a website or not, it's beneficial to take advantage of our free Funeral Packages feature.
The CMA are advising prices may be displayed on 'another appropriate online channel' if a Funeral Director has no website available. Your Free Listings page is ideal to fit this criteria and you may add 'View our Prices Online at funeral-notices.co.uk' to the literature you display in your premises.
Adding your funeral packages onto your funeral-notices listings page enhances the page helping you stand out from other Funeral Directors. You are also able to link to your listings page from your own website in order to provide clear online pricing. This could help save money in web development costs.
If you are unsure on how to log on to your funeral-notices account, or would like further support to add prices to your listings page, please use the 'request a Call/Email' button at the bottom of this article.
The CMA report may be read in full
here.
For help with adding Google or Feefo reviews to your listings page, click
here
to watch a short video.
To discuss this article or for help in adding any of the free benefits to your listings page, becoming a Preferred Partner of funeral-notices.co.uk or booking your free online notices, please contact us using the form below and an Account Manager will be in touch:
Thank you for reading.

Don't forget to

Follow

funeral-notices.co.uk

on social media to see when new articles are published:

Facebook Twitter Instagram LinkedIn
This article does not constitute legal advice, please ensure you consult the appropriate bodies to ensure compliance.